Fearless Practitioners Boss Club
For a low monthly fee you get access to all the information and peer support you need to grow a thriving private practice.
What's Stopping You program (value$35)
Ready to Jump program (value $35)
Decoding Insurance Courses (value $50)
Private Facebook Community (value $1000)
Weekly Live Accountability calls (value $1000)
Monthly Group Mastermind & Hot Seat Coaching calls (value $2000)
Quarterly Goal Setting Session (value $500)
Annual VIP Intensive ½ day Workshop (value $100)
Until June 1st you can get in the Boss Club for only $1 for your first month PLUS get access to the Be Fearless Workshop on June 22nd for only $ 50! Watch for the message at the checkout to get this special offer.
The Good Mixed in with the Unknown
Starting a private practice is both exciting and scary. There's so much you don't know that you don't know. It's overwhelming trying to find what you need on the very noisy internet
Or maybe you are in the growing phase of your private practice. You just got over the hump of scheduling your first few clients which feels amazing, but then plateau that often follows is leaves you feeling lost. You wonder what changed, what you're doing wrong, whether the first clients were just good luck.
Optimizing a full private practice is both reassuring and stressful. You worked so hard to get full and your time isn't being spent in the ways you'd hoped. In fact, you don't know where your time is going. Or your money. You have so much more of both than you used to and it still feels like not enough.
I've Been There & Know How To Change it
I've had private practices for over 10 years and a wild life during those years. Married with 3 step kids, husband started a company, chair of a national organization, and a very sad divorce while all growing a my own private practice. I've felt the freak out of no one calling, the complete overwhelm and on a hot mess express of running a practice, seeing clients, having a family, worry about how I am ever going to get everything done and sleep.
For a while now, I have coached clinicians individually and in small groups to help them build their dream practice. I've seen the same themes and struggles come up across all practice and in each type of clinical work.
Here's what I've seen, there are 7 Things Prevent Private Practice Success
Not knowing where to start and letting fear get in the way of starting
Not knowing where the money will come from
Not Knowing How Get Referrals
Not Knowing How to get clients
Not Knowing How to keep clients
Not Having a plan with systems in place
Not Having support and guidance
The Fearless Practitioners Boss Club Helps with that and SO MUCH MORE!
What's the Fearless Practitioners (FP) Boss Club?
It's a monthly Membership program designed to help you build your Dream Practice.
The Boss Club offers you access to all the information and peer support you need to grow a thriving practice. Courses, Training, the Opportunity for Individual Support, and a close-knit Community to help you build.
The FP Boss Club offer you regular time with Adrien each month in a group setting and MORE!
Get over your fears of being in private Practice with the 3 free programs included
Stay motivated with your community of peers in the Private Facebook Community
Keep on track with your plans and ideas on the Weekly Live Accountability calls
Move forward and take action from the Monthly Group Mastermind & Hot Seat Coaching sessions
Make plans to grow during the Quarterly Goal Setting Sessions
Boost your Professioanl development with the Annual VIP Intensive ½ day Workshop
You Can Have What You Want!
---
STOP PUTTING OFF YOUR DREAMS
GET THE SUPPORT YOU NEED TO BUILD THE PRACTICE OF YOUR DREAMS, AND TAKE ACTION DAILY!
---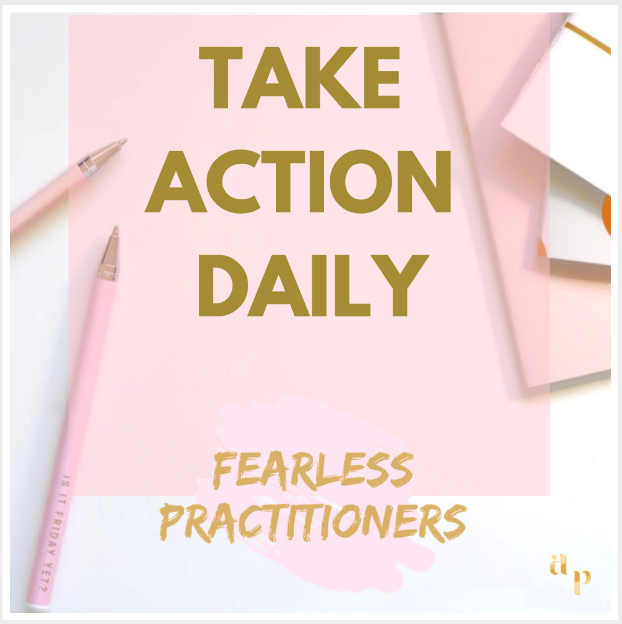 The key to success is to take action!
Get started today!
Become part of the Boss Club!