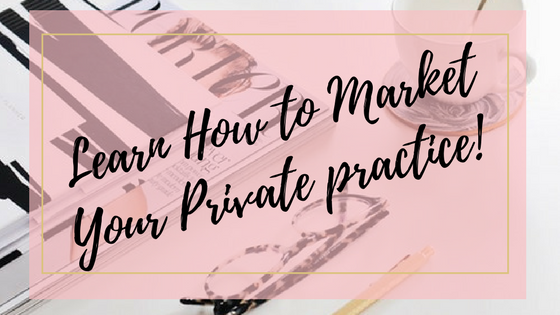 Networking Effectively
Taking time away from your practice can feel scary. Well, let me explain a bit more. Taking time away from seeing clients and getting paid for that time can feel counterproductive. At least for me that is what it felt like. When I went out to market I wanted to make sure that time was a true investment and I would be making that money back ten fold. I think that is why it took me way too long to see the true value and potential in effective networking and marketing.
In this weeks blog let's learn how to make the most out of your time when meeting with potential referral partners and not feel like you are wasting your time. In last weeks post we talked about who to market to, if you missed it check it out HERE.
Coffee Chats
A great way to get to know another clinician and to build up a report is over coffee. I did and continue to meet up with doctors/therapist/ etc for coffee. This gives me a chance to hear about their practice, what type of clients they love to work with, and what is their personality style.
It might feel super intimidating to ask another clinician to coffee, and my best advice is to try one! Once you get one scary meeting out of the way, I promise it gets so much easier! This week I would love for you to reach out to at least one practitioner in your area that you might have worked with in the past, or currently and see if they have time to grab coffee next week. When asking for coffee chats, give 2-3 dates and times, that helps with scheduling things faster.
How to stay Organized with Marketing
The number one key to truly becoming efficient in field marketer is to stay organized. Once you meet with someone, contact them or stop by their office, make a plan of when you will do that again and schedule it.
For instance, if I went to coffee with someone today, I would schedule in my calendar that 3 months from now I want to reach back out to them and see how things are going and follow up on something we might have talked about at coffee. I can't tell you how powerful that has been on building up stronger connections with local practitioners!
When you have a plan to follow up with people and track them, this can actually show you if those meeting where cost effective down the line.
Looking to get a little more understanding on marketing? The other articles listed below will help.
Learn step by step how to market effectively in the right order to grow your dream practice.
Sign up today!