In Person Marketing Ideas
The number one all time top question I continue to get from y'all is "how do I get more clients?" I get it! This is a huge stressor that can make or break you when starting out. The biggest gap between getting more clients and your revenue is marketing. All this month we are going to cover different type of marketing. If you feel you might need a bit more, check out the early bird registration for my next course, Fearless Marketing.
In today's post I want to share with y'all the power of marketing the field, or what I like to think about it as, getting to know other practitioners and become friends with them. Marketing in the field can feel and sound scary, and so if we think about how to build up these relationships it tends to be way more easy and less scary.
Who to Market to
When I first started out I made a lot of mistakes in marketing. I thought I needed to spend too much money on brochures and drive all over town dropping them off at different offices. Man, I was so wrong. Spending tons of money and having nothing to show for it was heartbreaking. Let's not make the same mistake I did, deal!
After this life lesson, I started to think about what makes me actually refer a client to therapist or doctor. What makes me give the name of one provider over another? I noticed I will refer to other clinicals based of who I knew, or that I might know them a bit on the personal level too. When I say personal, I mean we might have met in person at an event or spent time on the phone together and I knew something a bit more about them. The key is to get to know the professionals in your area on a deeper level. We tend to send people to other that we know, like and trust.
80/20 of In Person Marketing
Meet my 80/20 rule. (I have many 80/20 rules you will get to know). You want to spend 80% of your marketing efforts on those clinicians that know and send you to work already and then spend 20% of the other time with new acquisitions. What clinicians have you worked with in the past? This doesn't have to be in your current practice. This can be in your other jobs or other clinics. If you are just starting out think back to ALL the clinicians you have worked with. This might be in your internships and rotations. Do you still have their contacts, and if not can you find out how to get a hold of them? Make a list of all those people right now!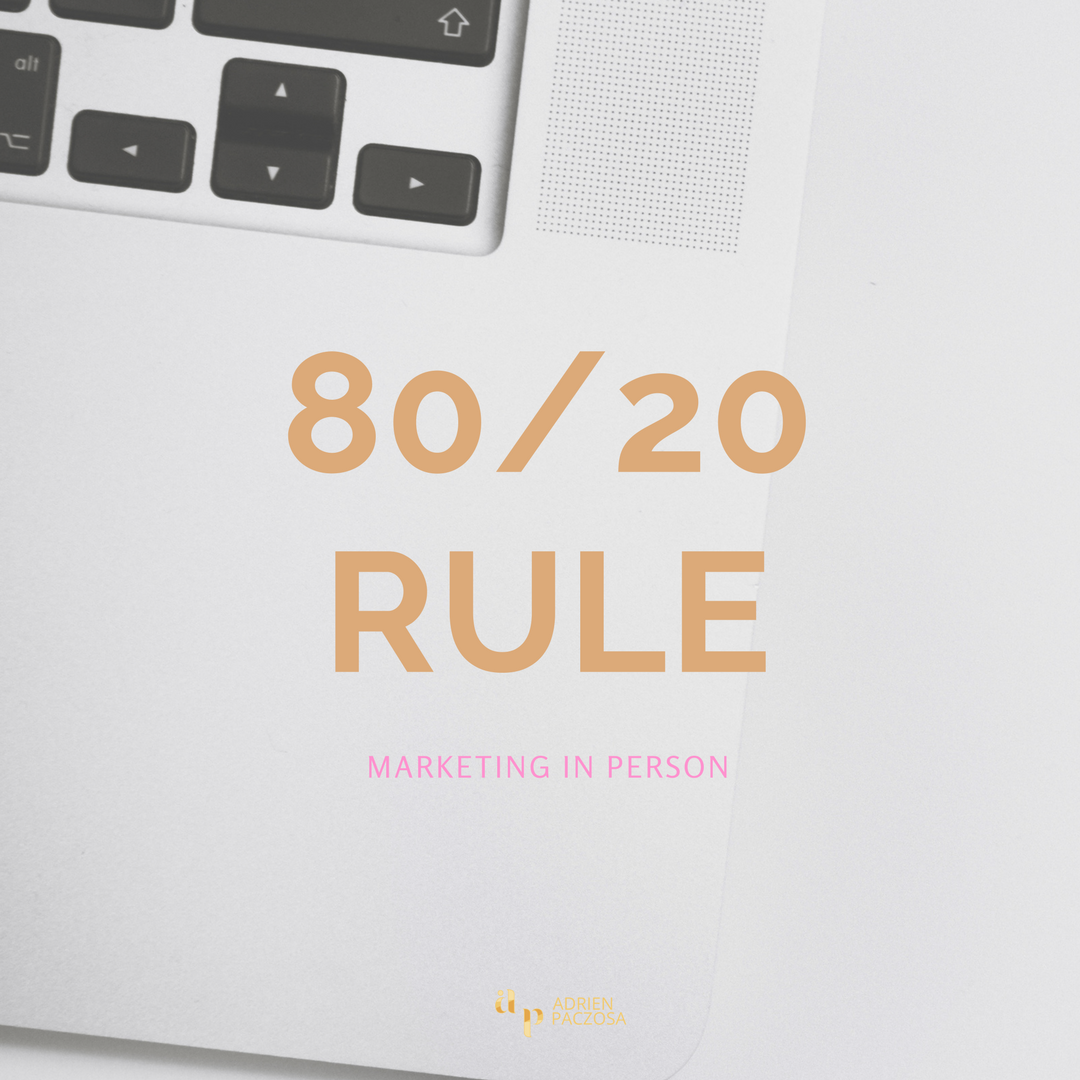 If you have been in practice for a short amount of time you can try this next tactic. When you have a new patient come in they sign a release of information - I want you to go through ALL your client charts and make a list of all those clinicians your current and past clients have written out. Next, call (I never spoke to the doctor, only left a message) letting them know that I was the dietitian working with our mutual client (left date of birth and name) and that I would be sending over my notes after each session. And how I continue to see clients that are in need of a new doctor/therapist/etc. and wanting to know if they are accepting new client. The majority would then definitely get back to me and say they are accepting new clients and would ALWAYS ask if I was too! BINGO!!!!
After a while, these practitioners would get used to hearing from me on a regular basis and seeing my companies info come through that when they did need to send a client to someone they knew the quality of my work and communication.
Marketing and building meaningful relationships with my fellow clinicas is my biggest source of referrals. Knowing the steps to marketing for your practice will make you feel successful
Learn step by step how to market effectively in the right order to grow your dream practice. Sign up today!